PT-B013MR page2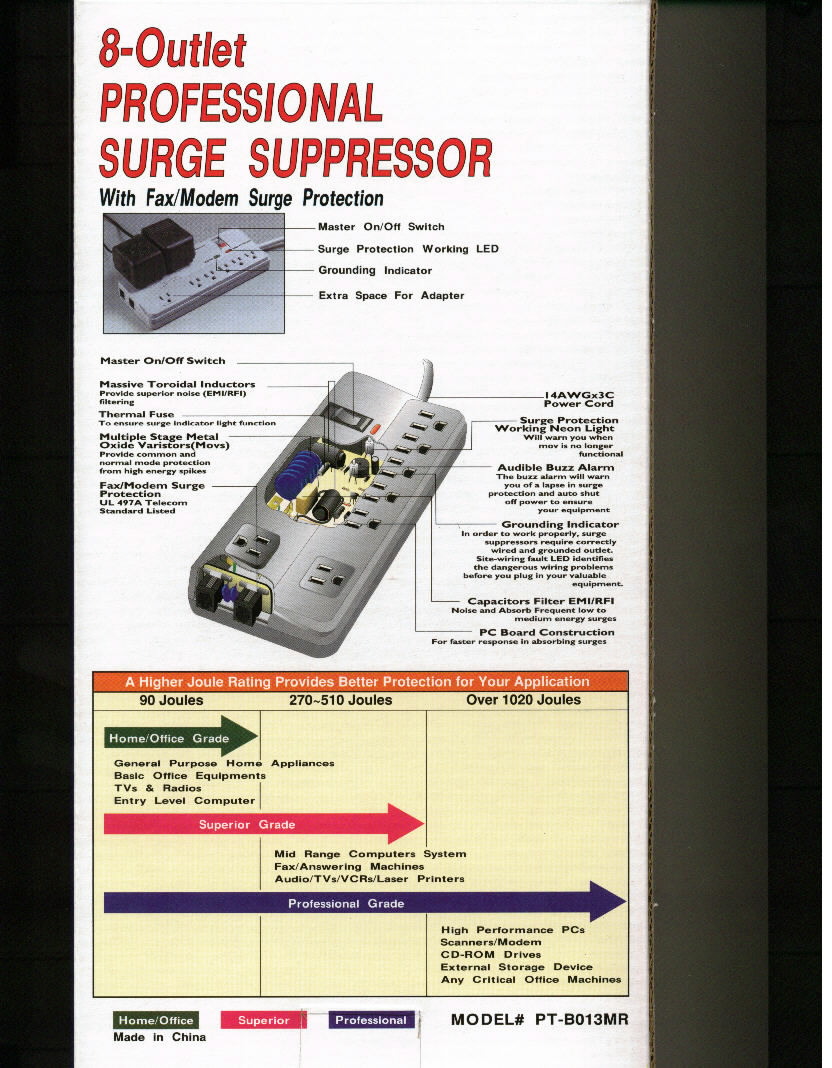 Additional information regarding specs and picture of inside the unit.
If you notice, inside the unit, you actually can see the three-stage protection. Multiple Stage Metal Oxide Varistors (MOVS, provide common and normal mode protection from high energy spikes
Thermal Fuse, to prevent over current, under voltage destruction.
Massive Toroidal Inductors provide superior noise (EMI/RFI) filtering and slow the surge process.
Surge Protection working Neon Light; will warn you when MOV is no longer functional.
Ground Indicator Neon Light, in order to work properly, surge suppressor requires correctly wired and grounded outlet. Site-wiring fault LED identifies the dangerous wiring problems before you plug in your valuable equipment
Capacitors Filter EMI/RFI noise and absorb frequent low to medium energy surges.
PC Board Construction, for faster response in absorbing surges.
14 AWGGx3C power Cord and 360 degree Rotating Plug, Flat against a wall outlet, space saving and rotates any direction.
Fax/Modem Protection Performance: @ 8x20 us clamping voltage is 395 volts at 160 Joules.
Last and most important, UL 1449 2nd edition listed and ULc for Canadian use.

PT-B013MR
For Price check please e-mail:
jpecore@earthlink.net